Get In The Game: Use Your Head
Maart 16, 2007 by zac439 | 3 Reacties
Filed Under Mededelingen, Gaming, Technologie
Emotiv Systems heeft onlangs onthuld een revolutionaire creatie op de Game Developers Conference in San Francisco. Deze nieuwe gadget, bijgenaamd "Project Epoc", commando kan letterlijk nemen van je- zonder een controller.
Het nieuwe product kan veel- verplaatsen objecten in een virtuele wereld, tonen gezichtsuitdrukkingen op basis van je stemming, reageren op emoties zoals woede of rust, en nog veel meer, verslagen Randy Breen. Randy is de Chief Product Officer van Emotiv Systems, onthuld en heeft het product zo eenvoudig als het aansluiten van een USB-kabel, letterlijk. Het apparaat kan werkelijk aan te sluiten op alle apparaten met een USB-poort- consoles en PC's zowel.
Maar hoe werkt het? The system takes information based on your brain's electrical activity, en routes het in een ontvanger, die het decodeert en volgt dan passende maatregelen. Vreemd, volwassenen met een moeilijker te gebruiken dan kinderen. Het apparaat werkt beter voor kinderen, die geloven meer in denkbeeldige dingen zoals telekenetics. Volwassenen hebben minder kans om te geloven in zulke dingen, en als gevolg daarvan hebben een mentaliteit dat het niet zal gebeuren. Aldus, er is een leercurve voor de meeste volwassenen.
Het bedrijf zei dat het systeem zal worden in 2008, en heeft vrijgegeven kit een ontwikkelaar. They plan on making applications for much more than just games, van veiligheid, medische terreinen, deze nieuwe uitvinding zou kunnen vrijwel overal worden toegepast. Emotionele, opgericht 2003, is gevestigd in Sydney, Australië. Het werd opgericht uit een universitair project, en is sindsdien gegroeid.
Velen voelen dit is slechts het begin. Verdere ontwikkelingen kunnen nemen online gaming naar een heel nieuw niveau, and fully immerse the gamer in an experience of real life. Deze functies zijn waarschijnlijk een paar jaar nog steeds af, maar gretig gamers overal anticpate zijn release in 2008.
Emotiv Stonehenge Demo: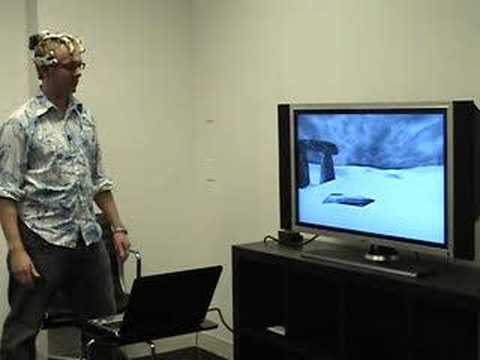 [Product Page, via Crunch Gear]
Trackbacks / Pings (
Trackback URL
)
Verwante Posten:
Reacties