Get In The Game: Use Your Head
Mars 16, 2007 by zac439 | 3 Commentaires
Classé dans Annonces, Gaming, Technologie
Emotiv Systems a récemment dévoilé une création révolutionnaire à la Game Developers Conference à San Francisco. Ce nouveau gadget, surnommé "Projet Epoc", peut littéralement prendre les commandes de votre part- sans manette.
Le nouveau produit peut faire beaucoup de choses- déplacer des objets dans un monde virtuel, Afficher les expressions du visage en fonction de votre humeur, répondre à des émotions comme la colère ou le calme, et bien plus encore, rapports Randy Breen. Randy est le Chief Product Officer d'Emotiv Systems, et a dévoilé que le produit soit aussi facile que de brancher un cordon USB, littéralement. L'appareil peut effectivement raccorder à n'importe quoi avec un port USB- Consoles et PC aussi bien.
Mais comment ça marche? Le système prend l'information fondée sur l'activité électrique de votre cerveau, et les itinéraires en un récepteur, qui le décode et suit ensuite les mesures qui s'imposent. Oddly, adults are having a harder time using it than children. The device works better for children, who believe more in imaginary things like telekenetics. Adults are less likely to believe in such things, and as a result have a mindset that it won't happen. Donc, there is a learning curve for most adults.
The company said that the system will be out in 2008, and has released a developer's kit. They plan on making applications for much more than just games, from security to medical fields, this new invention could be applied just about anywhere. Emotiv, founded in 2003, is based in Sydney, Australia. It was founded from a university project, and has grown since.
Many feel this is just the beginning. Further developments could take online gaming to a whole new level, and fully immerse the gamer in an experience of real life. These features are probably a few years off still, but eager gamers everywhere anticpate its release in 2008.
Emotiv Stonehenge Demo: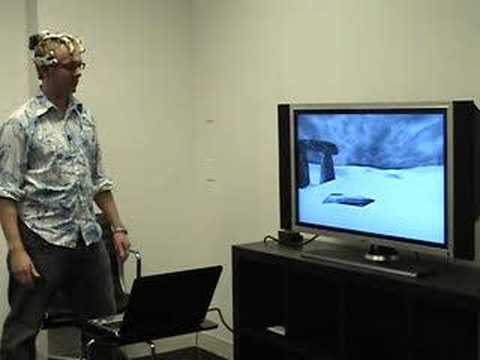 [Page produit, via Crunch Gear]
Trackbacks / Pings (
URL de trackback
)
Related Posts:
Commentaires