Get In The Game: Benutzen Sie Ihren Kopf
März 16, 2007 by zac439 | 3 Kommentare
Abgelegt unter Ankündigungen, Gaming, Technology
Emotiv Systems hat vor kurzem enthüllt eine revolutionäre Schöpfung auf der Game Developers Conference in San Francisco. Das neue Gadget, Spitznamen "Project Epoc", wörtlich nehmen kann Befehle von Ihnen- ohne Controller.
Das neue Produkt kann viele Dinge tun- Verschieben von Objekten in einer virtuellen Welt, zeigen, Mimik auf die Stimmung der Grundlage, Reaktion auf Emotionen wie Ärger oder Ruhe, und vieles mehr, Berichte Randy Breen. Randy ist der Chief Product Officer von Emotiv Systems, und hat das Produkt vorgestellt, um so einfach wie das Einstecken in einen USB-Kabel, wörtlich. Das Gerät kann tatsächlich hook up, alles mit einem USB-Anschluss- Konsolen und PC's gleich.
Aber wie funktioniert es? Das System nimmt auf der Grundlage Ihrer elektrischen Hirnaktivität Informationen, und leitet sie in einen Empfänger, die sie dekodiert und folgt dann die geeigneten Maßnahmen. Oddly, adults are having a harder time using it than children. The device works better for children, who believe more in imaginary things like telekenetics. Adults are less likely to believe in such things, and as a result have a mindset that it won't happen. Also, there is a learning curve for most adults.
The company said that the system will be out in 2008, and has released a developer's kit. They plan on making applications for much more than just games, from security to medical fields, this new invention could be applied just about anywhere. Emotiv, founded in 2003, is based in Sydney, Australia. It was founded from a university project, and has grown since.
Many feel this is just the beginning. Further developments could take online gaming to a whole new level, and fully immerse the gamer in an experience of real life. These features are probably a few years off still, but eager gamers everywhere anticpate its release in 2008.
Emotiv Stonehenge Demo: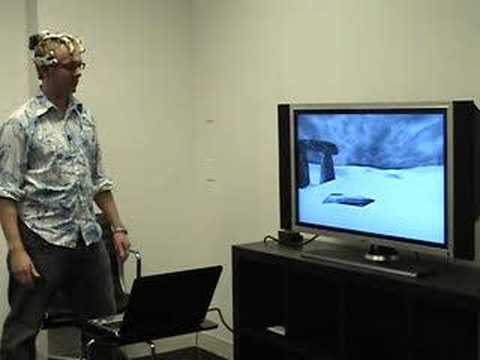 [Produkt-Seite, via Crunch Gear]
Trackbacks / Pings (
Trackback-URL
)
In Verbindung stehende Pfosten:
Kommentare